ZINSER 1304 / 1306 – Solve your cutting task with the optimal ZINSER product
Universal pipe cutting machines for oxy-fuel or plasma cutting plus drilling for cylindrical and multi-sided pipes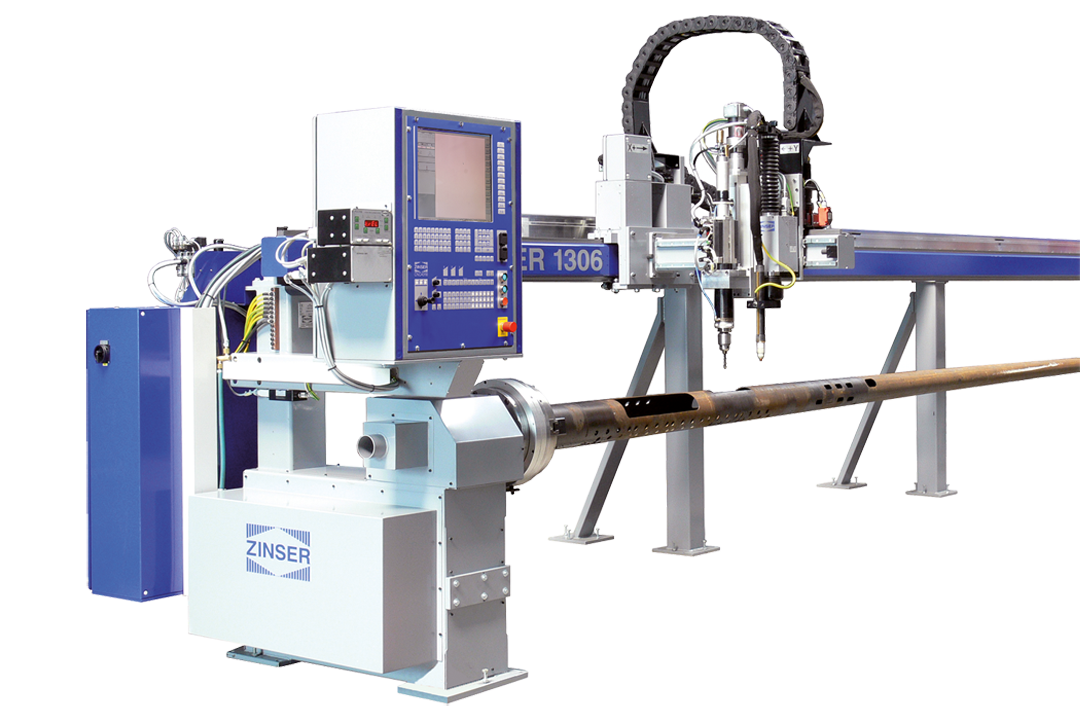 The ZINSER cutting machines 1304 and 1306 have been particularly developed for efficient machining of pipes.
The ZINSER 1304 is designed for cutting cylindrical pipes, the ZINSER 1306 for cutting cylindrical and multi-sided pipes.
Your advantages with the ZINSER 1304 / 1306 pipe cutting machines
Apertures, notches and the entire end preparation can be realized quickly and economically.
A variety of standard figures is available from the ZINSER MCC software.
With the new generation of ZINSER machines you will get excellent results at reduced piece costs.
We will build the ideal machine to cope with your requirements by choosing the right components and upgrades from the wide ZINSER product range.
Technical Data
| | |
| --- | --- |
| Pipe diameter: | 50 – 500 mm |
| Cutting (working) length: | Basic length: 1000 mm, extensions in steps of 1000 mm |
| Equipment: | 1 torch with height adjustment; oxy-fuel / plasma / drilling |
| Option: | Pipe support system consisting of a guide track and height adjustable dollies |
Basic equipment and options
Basic scope of delivery
Pipe cutting machine with track (X), rotation axis (A) and for the ZINSER 1306 with additional cantilever (Y)
Three-jaw chuck or four-jaw chuck
A hollow shaft through the chuck enables the use of an internal ventilation
CNC controller
Oxy-fuel cutting unit or plasma power source with dialogue system
Options / extra attachment
Pneumatic jaw chuck
Drilling unit
Start and stop of the drilling cycle in automatic mode via the CNC control
Feed rate and depth stop are regulated by an adjustable hydraulic damper
Extraction systems and filter unit