Competitive advantage through knowledge
To ensure our employees' high level of know-how, a continuous training program is necessary.
ZINSER regularly organizes plasma cutting training – this time for a sales partner.
Read more
3 technologies – 1 machine – 100% satisfied customer
The Belgian C-Metal AG / SA produces high-quality wear parts for e.g. concrete mixers. In order to guarantee a long service life, C-Metal uses mainly highly wear-resistant materials like HARDOX®.
To meet the increasing demand of its customers and to further extend the product portfolio, C-Metal decided in 2018 to invest in a new cutting machine. Important requirement: Besides a high reliability and accuracy, all needed production processes (plasma, oxy-fuel, drilling) should be performed precisely and fast on one single machine.
Read more
Convincing bevel cuts!
Also in Norway many companies cut with ZINSER – for example Pallesen Sveis A/S from Orre. Founded in 1996, the 4-man shop today delivers cutting and welding products to various customers e.g. from the oil or construction industries. The customer support on-site is carried out by long-term ZINSER partner Thermocut AS.
Read more
Winkelbauer counts on powerful duo from ZINSER
Cutting expert Winkelbauer counts on two new ZINSER 4025 cutting systems for the expansion of its production capacities. The highly flexible machines have been in use for almost a year now.
Equipped with a plasma bevel head, oxy-fuel and plasma torches, the machines ensure a higher performance and quality in the Austrian family business's production. The additional equipment, like the in-ground, self-cleaning cutting table with oscillating conveyor, also excels.
Read more
50 Belgian Students at ZINSER
On November 8th, ZINSER welcomed 50 students from Belgium's Odisee University College at ZINSER's production site in Albershausen. At first, ZINSER gave the students a detailed theoretical introduction to the different technologies of plasma, oxy-fuel and laser cutting. Afterwards, during the practical part of their visit, the students could obtain a hands-on experience about the different production steps of the machine building at ZINSER. Furthermore, live presentations of laser cutting, plasma marking and plasma bevel cutting as well as drilling on the new ZINSER 4225 provided various possibilities to see the different cutting processes at work and ask questions or engage in further technical discussions.
Falk Richter, head of production at ZINSER, who had guided one of two groups through the practical part, summarized after the event: "I am very positively surprised. I've rarely seen a group of students which asked so many interesting and substantiated questions – during the theoretical as well as the practical part." This event was a big success for ZINSER. The company will continue to be open for these kinds of events and is looking forward to supporting schools and universities with the education of their students also in the future.
METAL MACHINERY, Greece
After the EuroBLECH in Hanover, the ZINSER 1225 traveled directly to Athens. Our Greek dealer Roussakis Michail & CO presented the machine from 9th to 11th November on his stand at the METAL MACHINERY.
Review: ZINSER at the EuroBLECH 2018
October 23-26, 2017
ZINSER at STADLER's Open House
On July 28th, 2018 Stadler invited to their Open House event. 400-500 visitors accepted the invitation and experienced an exceptionally great and wonderfully sunny day with steak, currywurst, Swabian cheese noodles, crêpes and live music. The children were entertained with a bouncing castle or face painting.
According to Stadler, one of the biggest attractions of the day was their new ZINSER cutting system. Two experts from ZINSER were present during the whole day to support with questions and do some cutting demonstrations on the machine.
We would like to use this opportunity to thank Stadler once again for the invitation to a really successful Open House event. We received a lot of positive feedback and are looking forward to the next joint event.
Full house at ZINSER's Customer Day for the 120th anniversary
Celebrate with us 120 years of ZINSER!
At this year's ZINSER Customer, Dealer and Family Days, we invited to celebrate with us 120 years of precision and quality of ZINSER products. More than 250 visitors from 20 countries participated in those three days.
On June 15th, ZINSER opened its doors for the famous ZINSER Customer Day and invited to experience the fascinating world of plasma, laser and oxy-fuel cutting. The numerous international visitors had the chance to see a lot of innovative exhibits and practical workshops. Especially the demonstrations of the technically leading technologies in bevel cutting and CNC drilling were of great interest to our customers.
In our modern training and demonstration center, ZINSER's customers could experience the uniquely high quality of the company's portal and pipe cutting systems. The ZINSER experts furthermore informed about the latest developments in software and machine operation. As a special highlight, visitors already had the chance to get a sneak preview of the new ZINSER cutting system with new CNC controller, which the company is planning to launch at the EuroBLECH in November in Hannover.
Read more
First successfully completed drilling task for the new ZINSER 4125B at Hilgefort
Since the beginning of this year, the preparations for the set up and installation of the new ZINSER 4125 plasma cutting machine at Hilgefort ran at full speed. The high performance system is the third ZINSER 4125B Hilgefort has invested in. Started in April, the ZINSER machine now significantly increases the flexibility of Hilgefort's contract manufacturing department.
Read more
Successful cooperation of two well-established companies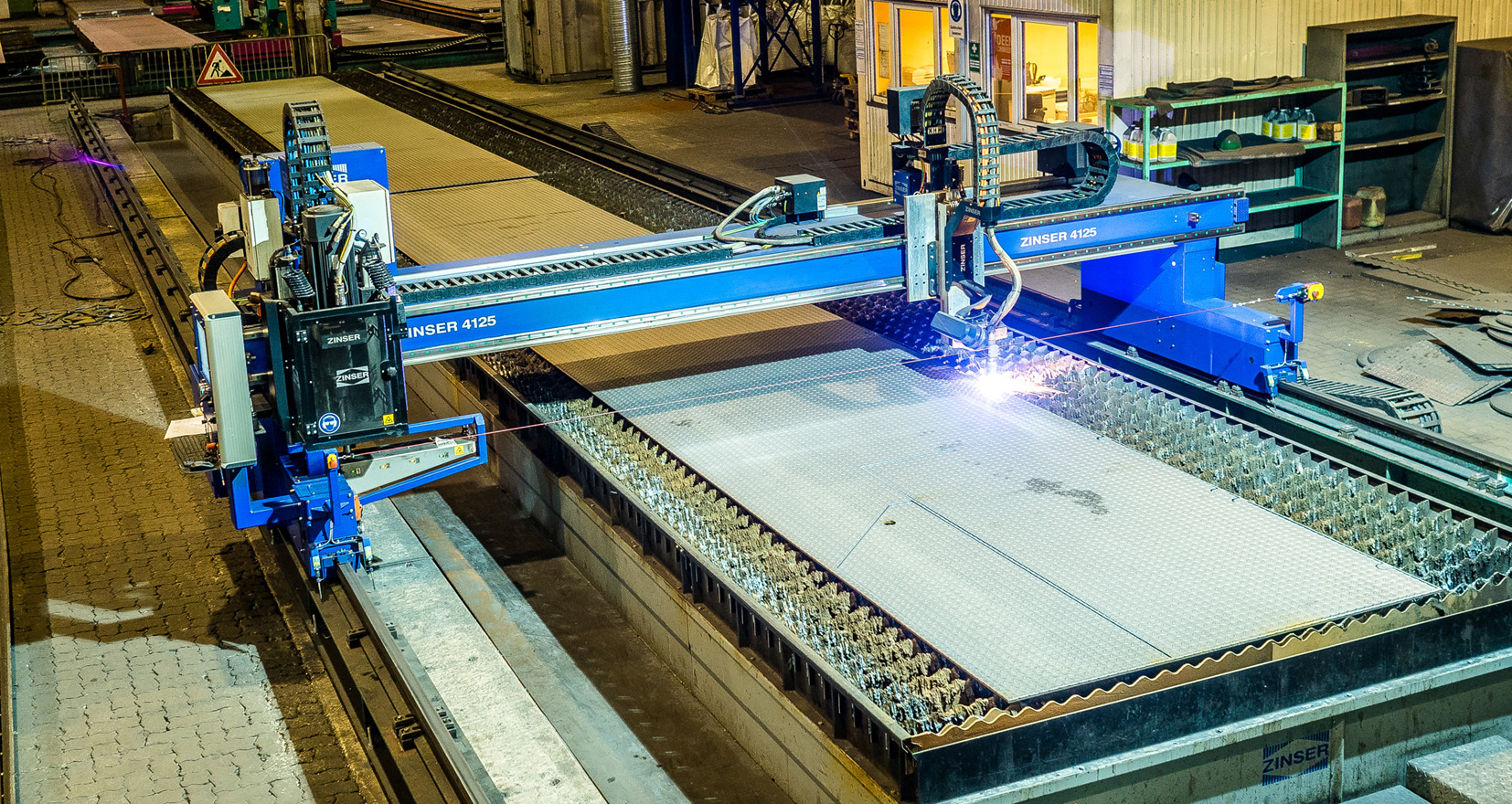 Founded in 1898, the family business ZINSER GmbH is a specialist in manufacturing cutting systems, software as well as oxy-fuel and hot air devices. With the Salzgitter Mannesmann Handel GmbH, the leading company in the area of trading in the Salzgitter Group, ZINSER has been holding a strong partnership for years. Today the Salzgitter Group operates several ZINSER portal machines at different locations in various countries for added processing of plates.
Read more
See for yourself the quality of our unique drilling unit
Pre-drilling, countersinking 45° / ZINSER 4125B / HARDOX® 450
Drilling 40mm blind hole, 18mm through hole
Drilling 40mm on a ZINSER 4125B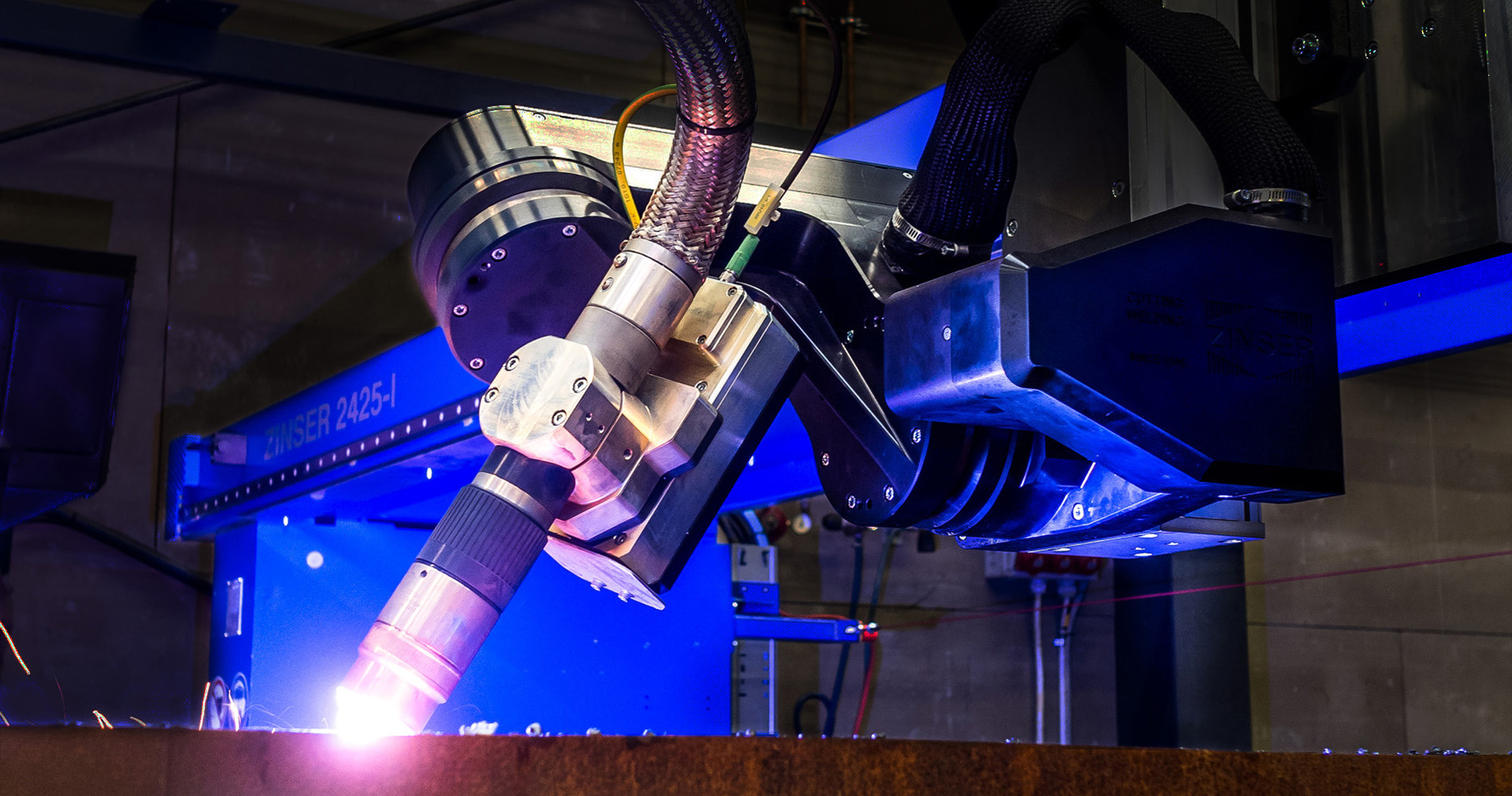 Learn more about our plasma bevel unit
The ZINSER plasma bevel unit offers you an even wider range of possibilities. Learn more about its technology.
learn more
Review: ZINSER at the Blechexpo 2017 in Stuttgart
November 7-11, 2017
Review: ZINSER at the SCHWEISSEN & SCHNEIDEN
September 25-29, 2017