Accessories
For the ideal adaptation of the ZINSER flame cutting machine to the range of your cutting tasks a huge variety
of accessories is available.
Plasma cutting units
Low cost cutting tables and down draft cutting tables
Suction plants
Height adjustment (capacitive or by means of electric arc voltage)
Proportional valves for gas regulation
Single or triple burner turning heads
Pneumatic spot drilling unit
Pneumatic scribe unit
Punch marking
Plasma marking
Water spray device
Safety devices like release cord and light barrier
Pipe supporting systems for pipe cutting machines
….
ZAC 5010 torch height control
The height control ZAC 5010 has been designed for very fast data transfer between plasma system and torch height adjustment. It ensures the exact positioning of the plasma torch during piercing and cutting.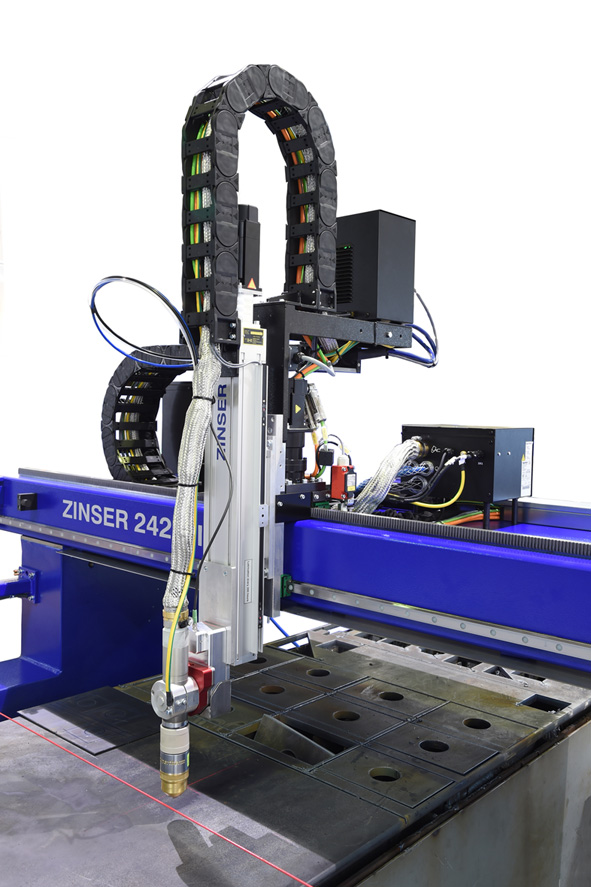 Components of ZAC 5010 system:
CNC control module
Interface module (CNC/plasma system)
Torch height control (assembly) AC-Servo
Connecting cable
First height adjustment (assembly)
3-D collision protection
Extract from feature list:
Response to deviations less than 1 Volt of the arc voltage
Max. positioning speed 15.000 mm/min
Initial height adjustment with ohmic resistance measurement
Additional initial height adjustment with tactile sensor
High repeatability
Switch off height control when bypassing edges and kerfs
Distance values can be entered in mm or Volt
Z-axis motor with high torque allows a load of 30 kg
Z-axis hub: 350 mm
Positioning accuracy: 0,025 mm
Contactless inductive upper and lower limit switch
Highest reproducibility by means of micro process control and monitoring
Automatic data transfer from CNC 5010 data base
All necessary cutting parameters are included in the data base
CNC control simplifies, without any significent intervention, the configuration of all cutting parameters
Rotative bevel aggregate
ZINSER DBA-A man.
Manual rotative 3-torch-bevel aggregate oxy-fuel
The manual rotative 3-torch-bevel aggregate allows V-, X-, Y-cuts and K-bevels at straights.
Rotation: 90° rotatable
Angle: 20-45° manual
Capacitive heigth control
Bevel and vertical cutting thickness up to 60/100 mm
Proportional valves for central and continuous adjustable control of all gas pressures during flame cutting
The flame cutting process consists of three operating cycles:
preheating respectively fast preheating
piercing
cutting
For all of those cycles, oxygen and cutting gas with different pressures are required. With the proportional valves, the pressure for each individual cycle can be perfectly adjusted.
During the piercing process, the pressure of the cutting oxygen must increase continuously. With an additional potentiometer for the >cutting oxygen ramp<, the increase of pressure can be perfectly adjusted to the requirements to be cut. Furthermore, the lifetime of nozzles increases considerably.
Advantages
central arrangement of the operating- and control device
perfect adaption of gas pressures to the material requirements
correction of gas pressure possible at any time
contiuous, linear increase of cutting oxygen during piercing process
increased lifetime of nozzles
improved cutting quality